REGRETTABLY, THE SAMSON INN IS NOW CLOSED. WE ARE EXPLORING ALL OPTIONS FOR REOPENING AS SOON AS POSSIBLE - PLEASE KEEP CHECKING FOR UPDATES HERE OR ON OUR SOCIAL MEDIA PAGES.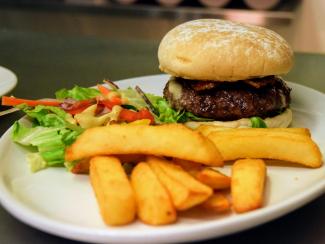 The Samson is owned by three farmers and we understand that great food starts with quality ingredients. We draw on the wealth of local fine food producers and retailers and supplement those with beef, lamb, salads, herbs and some seasonal vegetables from our own farms.This gives our talented chefs the building blocks to make their delicious dishes.
All our chefs have been with us for several years (two from when we first opened the kitchen in 2013) and together we have produced a menu that combines the best of traditional pub food with a careful, modern twist.
Book a table
The quickest way to book a table is through the form below, but please feel free to ring or email us if you prefer or you have anything you'd like to speak to us about directly. For groups over 6 people, please contact us directly. 
Telephone: 016977 47880 | Email: info@thesamson.co.uk
Downloadable and printable versions of all our menus can be found here.
Evening menu
Starters

| | | | |
| --- | --- | --- | --- |
| Homemade cheese and leek Glamorgan sausages, served with our own relish and salad garnish | Vegetarian | £6.35 | |
| Homemade mushroom paté served with toasted bread and salad garnish | Gluten free (or available), Vegan, Dairy free (or available) | £6.75 | |
| Free-range chicken goujons served with Cumberland honey mustard mayonnaise and salad garnish | Dairy free (or available) | £6.45 | |
| Crunchy falafels on a fresh, herby salad dressed with our own tahini sauce | Vegan, Dairy free (or available), Gluten free (or available) | £6.25 | |
| Lightly smoked trout paté served with toasted bread and salad garnish | Gluten free (or available) | £7.25 | |
| Samson Inn soup of the day with our own bread roll and butter - please ask for details | Gluten free (or available) | £5.95 | |
Mains

| | | | |
| --- | --- | --- | --- |
| Twice baked cheese soufflé - A light, fluffy soufflé made with mature cheddar cheese, served with skinny fries and seasonal vegetables | Vegetarian, Gluten free (or available) | £13.45 | |
| Bangers and mash - Butcher's pork sausages on creamy mashed potato with caramelised onion gravy and seasonal vegetables | Gluten free (or available) | £13.85 | |
| Chicken pesto penne - Char-grilled chicken breast served on penne pasta in a creamy white wine sauce and our own red pepper pesto | | £13.95 | |
| Fish pie - Salmon, cod & smoked haddock in a rich white sauce, topped with mashed potato and cheddar cheese, served with seasonal vegetables | Gluten free (or available) | £14.95 | |
| Seasonal risotto - please see the board or ask a staff member for details | Gluten free (or available), Dairy free (or available) | £12.45 | |
| Gammon and eggs - 10oz gammon steak with two free range eggs, chips and seasonal vegetables | Gluten free (or available), Dairy free (or available) | £13.95 | |
| 8oz Steak - 8oz sirloin steak cooked to your liking served with grill garni, battered onion rings, salad leaves and chunky chips | Dairy free (or available), Gluten free (or available) | £19.95 | |
| The Samson burger - Made with local, organic beef and served in a toasted bun with mayonnaise, cheddar cheese and our own bacon jam, with chunky chips and salad | Dairy free (or available), Gluten free (or available) | £15.45 | |
| Sweet potato and chickpea curry - Roasted sweet potato and chickpeas in a mild coconut curry sauce, served with basmati rice | Vegan, Dairy free (or available), Gluten free (or available) | £12.95 | |
| Lamb, leek and potato Oggie - Our version of the Welsh pasty served with a jug of homemade gravy, chips and peas | Dairy free (or available) | £14.95 | |
Desserts

| | | | |
| --- | --- | --- | --- |
| Marquise au chocolat - a rich chocolate torte topped with a layer of chocolate mousse, served with mint chocolate crisps, a mint chocolate drizzle and cream or ice-cream | Gluten free (or available), Vegetarian | £6.45 | |
| Seasonal fruit crumble served with cream or ice-cream | Vegetarian | £6.35 | |
| Treacle tart served with cream or ice cream | Dairy free (or available), Vegetarian | £6.35 | |
| Rich date sticky toffee pudding and toffee sauce served with cream or ice-cream | Vegetarian | £6.45 | |
| Lemon posset served with fresh berries and shortbread | Gluten free (or available), Vegetarian | £6.45 | |
| Rice pudding made with coconut milk and topped with our own fruit compote and toasted almonds | Dairy free (or available), Gluten free (or available), Vegan | £6.45 | |
| Trio of English Lakes Ice cream - choose from Crushed Strawberry, Death by Chocolate, Madagascan Vanilla or Toffee Fudge | Gluten free (or available), Dairy free (or available), Vegetarian | £5.75 | |
Lunch menu
Starters

| | | | |
| --- | --- | --- | --- |
| Homemade mushroom paté served with toasted bread and salad garnish | Gluten free (or available), Vegan, Dairy free (or available) | £6.75 | |
| Crunchy falafels on a fresh, herby salad dressed with our own tahini sauce | Vegan, Dairy free (or available), Gluten free (or available) | £6.25 | |
| Samson Inn soup of the day with our own bread roll and butter - please ask for details | Gluten free (or available) | £5.95 | |
Mains

| | | | |
| --- | --- | --- | --- |
| Homemade cheese and leek Glamorgan sausages, served with our own relish, skinny fries and salad garnish | Vegetarian | £9.85 | |
| Free-range chicken goujons with Cumberland honey mustard mayonnaise, skinny fries and salad garnish | Dairy free (or available) | £9.95 | |
| Burger made with local, organic beef and served in a toasted bun with mayonnaise, cheddar cheese and our own bacon jam, with skinny fries and salad | Dairy free (or available), Gluten free (or available) | £15.45 | |
| Cheese with chutney and / or tomato sandwich served with salad, homemade coleslaw and crisps | Vegetarian, Gluten free (or available) | £6.95 | |
| Egg mayonnaise sandwich served with salad, homemade coleslaw and crisps | Vegetarian, Gluten free (or available) | £6.95 | |
| Bacon, lettuce and tomato sandwich served with salad, homemade coleslaw and fries on ciabatta | Gluten free (or available) | £7.25 | |
| Smoked salmon, cream cheese and cucumber sandwich served with salad, homemade coleslaw and crisps | Gluten free (or available) | £7.25 | |
| Falafels, salad and our own tahini sauce sandwich served with salad, homemade coleslaw and crisps | Vegan, Dairy free (or available), Gluten free (or available) | £6.85 | |
Desserts

| | | | |
| --- | --- | --- | --- |
| Marquise au chocolat - a rich chocolate torte topped with a layer of chocolate mousse, served with mint chocolate crisps, a mint chocolate drizzle and cream or ice-cream | Gluten free (or available), Vegetarian | £6.45 | |
| Seasonal fruit crumble served with cream or ice-cream | Vegetarian | £6.35 | |
| Treacle tart served with cream or ice cream | Dairy free (or available), Vegetarian | £6.35 | |
| Rich date sticky toffee pudding and toffee sauce served with cream or ice-cream | Vegetarian | £6.45 | |
| Lemon posset served with fresh berries and shortbread | Gluten free (or available), Vegetarian | £6.45 | |
| Rice pudding made with coconut milk and topped with our own fruit compote and toasted almonds | Dairy free (or available), Gluten free (or available), Vegan | £6.45 | |
| Trio of English Lakes Ice cream - choose from Crushed Strawberry, Death by Chocolate, Madagascan Vanilla or Toffee Fudge | Gluten free (or available), Dairy free (or available), Vegetarian | £5.75 | |