The bar and restaurant are currently closed due to COVID-19 but we are offering takeaway meals every evening.
Takeaway menus and ordering forms
If you have any specific questions on any allergies in any of these dishes, please get in touch. Similarly, if you are having problems using the forms, let us know.
Telephone us on 016977 47880 (or 016977 47962) or email info@thesamson.co.uk
If the forms don't appear in the boxes above, you can try these links to fill them in directly.
| Evening menu | Sunday lunch menu |
---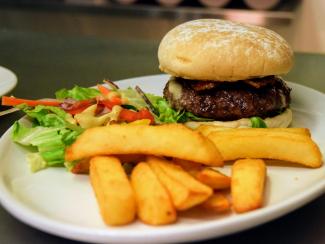 The Samson is owned by three farmers and we understand that great food starts with quality ingredients. We draw on the wealth of local fine food producers and retailers and supplement those with beef, lamb, salads, herbs and some seasonal vegetables from our own farms.This gives our talented chefs the building blocks to make their delicious dishes.
All our chefs have been with us for several years (two from when we first opened the kitchen in 2013) and together we have produced a menu that combines the best of traditional pub food with a careful, modern twist.